The beauty of quality natural stone & marble furniture is really quite something. Each piece is unique and has its own characteristics. All are polished with natural wax to enhance the beauty of the stone and marble.
These pieces are very different from the fake or reconstituted items available elsewhere.
Online we sell the tables as illustrated but other finishes and sizes are available in store.
Please email info@hopewels.co.uk or call us 01159536000 for more information.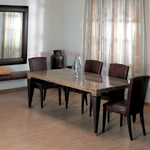 £POA